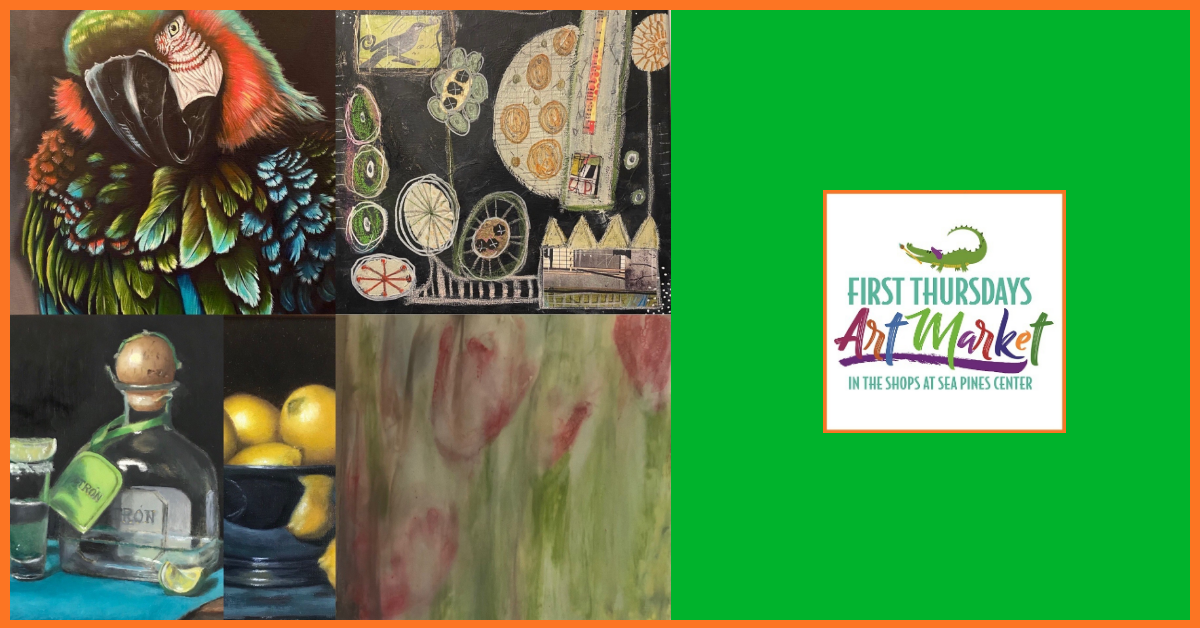 First Thursdays Art Market
February 4 @ 4:00 pm

-

6:30 pm
First Thursdays Art Market
More than 40 of the most engaging artists in the lowcountry live right here in Sea Pines. A dozen or more of these artists will be on hand at our First Thursdays Art Market.
See the exhibits, talk with the artists, and relax in the lovely plaza of The Shops at Sea Pines Center while you take advantage of special merchant offers, including live music, complimentary wine tastings, specials, giveaways, and more.
On the Plaza:

Artists' exhibits.
Tabata demonstration led by Sharon McDonnell of Sea Pines Fitness Center, from 4:30 p.m. to 5:15 p.m.
Singer-songwriter Sara Burns performs live in front of VIVID Gallery (courtesy of VIVID Gallery).
Singing Valentines around the plaza from the strolling barbershoppers of the Lighthouse Chorus.
Get a sneak peek of the new Portofino-inspired paint scheme for the plaza. ("We're having a little work done.")
Spread a little sunshine with special Valentine's Day gifts created by local adults with disabilities from Pockets Full of Sunshine.

On the Hazel Dean's Patio:

Artists' exhibits.
Sample great wines and make your selection.
Local musical favorites John Cranford and Matt Robbins make magic at Hazel Dean's.

Merchant Specials:

Sea Pines Fitness Center: Enter to win a three-month membership.
Pyramids: Register by 6 p.m. to win a bouquet of silk flowers. No purchase necessary.
C'est Bon: Enjoy a free hot chocolate.
VIVID Gallery: Stroll the 3,000-square-foot art/photography gallery.
Lighthouse Realty & Plantation Station: Sample fine wines from Plantation Station while chatting with the folks at Lighthouse Realty.
Share This!