There is a charm to the Sea Pines Trolley that makes it one of our guests' and visitors' favorite ways to get around. Even long-time Sea Pines residents make a trolley ride one of the treats they give their family and friends when they come for a visit. The Sea Pines Trolley stop that is situated right at the western entrance to The Shops at Sea Pines Center makes this an exceptionally handy place to step aboard.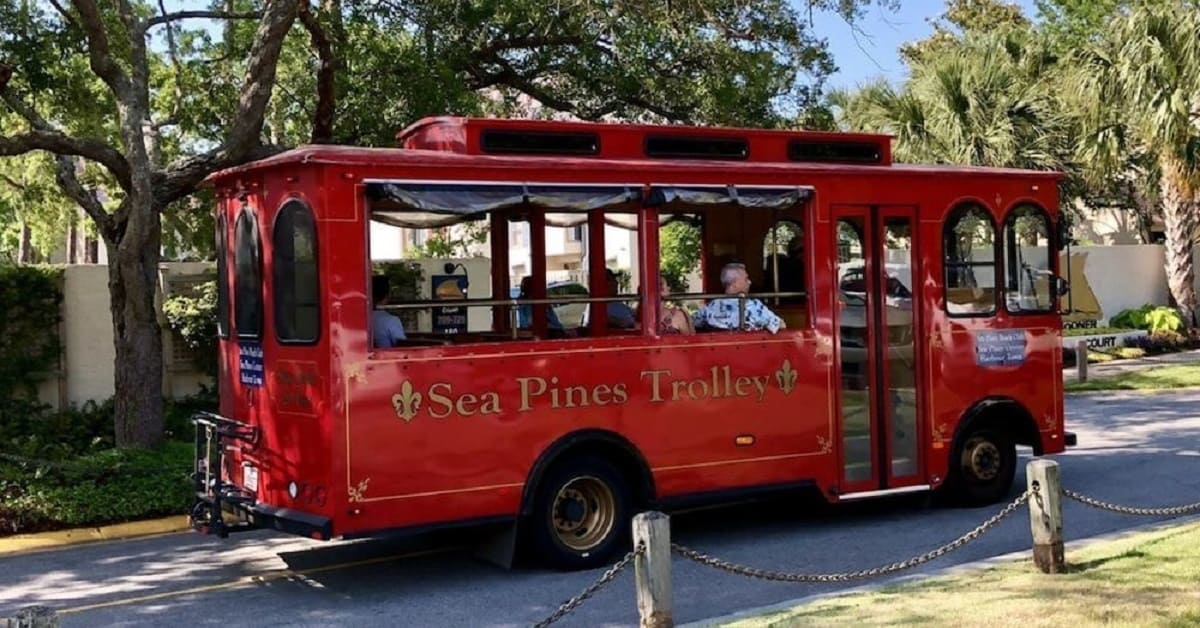 In fact, our trolley stop and the one at Harbour Town are the only ones that include all three trolley lines in their repertoire – the Blue Line, the Green Line, and the Red Line. With all three routes awaiting your selection, you are connected from here to some of the most fun and fascinating places on America's favorite island. And in return, it brings the most fun and fascinating people right here.
Meeting the Mood of Sea Pines
Like The Shops at Sea Pines Center themselves, the trolley seems to fit the mood of Sea Pines – breezy, stylish, unruffled. The busy dreamers who envisioned Sea Pines originally put The Shops at Sea Pines Center right in the middle of the miracle mile, and they made an inspired choice with the trolley, too.
With regular summertime hours extending through September 4 – from 9 a.m. to 10 p.m. on the Blue and Green routes, and from 4 p.m. to 10 p.m. on the Red route – visitors and Sea Pines residents alike get a pleasurable option for getting to some of the most attractive spots on Hilton Head Island in style.
A Matter of Style
It must be style that makes a trolley, after all. Because our Sea Pines Trolley is one example of a conveyance that has outlived every major technical development in getting people from here to there. Electric trolleys were common all over the world for many years, maintaining contact via overhead electrical supply lines that sometimes hummed and sparked.
The first suburban lifestyles were enabled by these quiet, civilized conveyances. They breezed through outlying neighborhoods, and people simply stepped-on at the nearest platform, to arrive for work or shopping downtown. In neighborhoods such as Atlanta's Kirkwood or Brookside in Kansas City, these former trolley paths now play host to runners, walkers, bicyclists, and dog-walkers, who value the privileged, central locations of their right of way.
Still a Place for Pleasure
The craze for cars and the viability of gasoline-powered buses spelled the eclipse of relying on trolleys for basic public transport. So, why do we still have a place for them, making a point of trolley riding, even when they must come with engines and tires such as our Sea Pines Trolley? Trolleys remind us of a lifestyle that cities thought they outgrew.
This is what The Shops at Sea Pines Center have in common with the Sea Pines Trolleys that come and go from here. They are part of the pleasure of Sea Pines, part of our style. No matter what conveyance you choose, we look forward to your visit.