One of the first things we heard about The Shops at Sea Pines Center is that people come to the plaza here to find out what's going on. From long-time Sea Pines residents to new arrivals to this week's vacationers, folks come to just stroll and chat and to discover what they'd like to take part in enjoying. Having a wonderful time while they find out is part of why people come, too.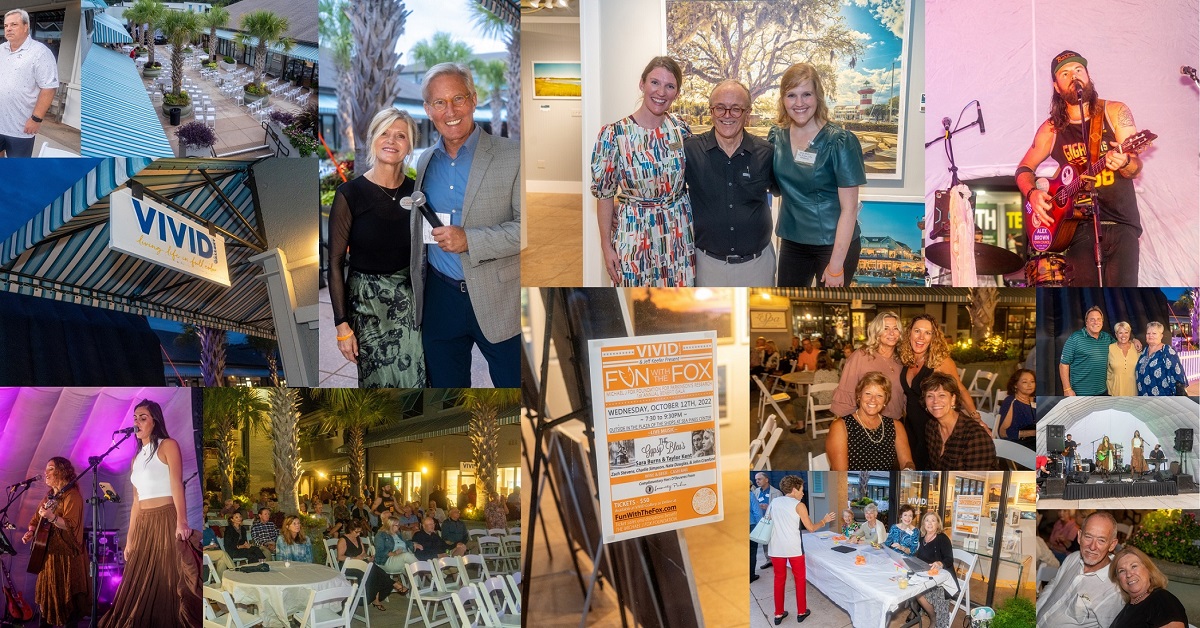 Next week, we'll see a big example of the good that comes from connecting, here at the plaza, when we celebrate Fun with the Fox. On Wednesday, October 18, a few hundred friends and neighbors will gather to enjoy Hilton Head's favorite show band, Deas-Guyz, some tasty hors d' oeuvres from Lowcountry Produce, and to peruse the signature scenic art photography of Jeff Keefer at VIVID Gallery.
Tickets to the fun are easy to get at funwiththefox.com. Early arrivers will enjoy a pop-up art market and Champagne tasting, beginning at 5 p.m.
How We Find Out More
From the success of last year's Fun with the Fox, we saw that the people who come to the event want to find out more, too, about what the Michael J. Fox Foundation is doing to help find a cure for Parkinson's Disease. Seems that most everyone has a stake in the story, a friend or a relative whose quality of life depends on the efforts to discover more answers.
"To me, hope is informed optimism," Michael J. Fox has said.
The information behind this optimism is part of what people come to Fun with the Fox to hear. This year, someone from the foundation will once again share some news when Deas-Guyz take their break, and the news this year has been described as an enormous leap forward.
Unlocking the Mystery
In April, the leading scientific journal announced discovery of what's been called the "Parkinson's protein," a biomarker that for the first time enables doctors to diagnose, and – in some cases – to predict, the onset of Parkinson's Disease. With so many millions affected – Parkinson's is the second most widespread neurodegenerative disease – it is hard to believe that until now the buildup of symptoms was a doctor's only way to make the diagnosis.
"This changes everything," Michael J. Fox said.
The newly identified biomarker unlocks a future when persons living with Parkinson's can anticipate better care and treatments – and when newly diagnosed persons might never advance to full-blown symptoms.
Connecting Was the Key
Jeff Keefer's connection with Parkinson's is as personal as it gets.
"When I received my own diagnosis," said Jeff, who donates all the proceeds from VIVID Gallery to the foundation, "I evaluated a half-dozen organizations for where to put my work and support. I chose the Michael J. Fox Foundation because they connect the efforts of everybody to find the cure and close the door, based on science."
The success of last year's Fun with the Fox, and the way we saw people enjoy the evening so completely, has everybody excited to welcome folks back again. Come see us Wednesday, October 18, and grab your tickets at funwiththefox.com.