From our vantage point here in The Shops at Sea Pines Center, the many attractions of Sea Pines seem like a neighborhood where we grew up, and a lot of the kids became famous.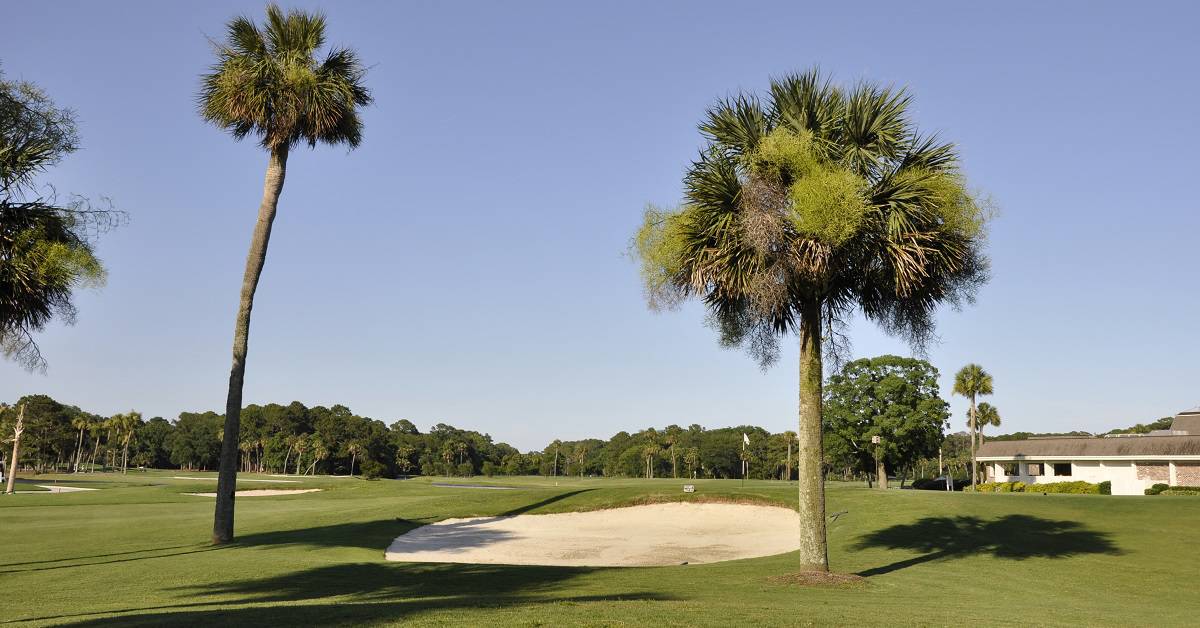 The Yacht Basin, the Racquet Club, the Salty Dog, the Harbour Town Lighthouse, and on and on. They are names that in certain circles are known around the world. We've been here in the center of it all, and we look on with a sense of pride at what's been accomplished.
Yet of all these, the attraction that became famous the fastest was golf. Sea Pines as a golf resort took its place among the world-renowned, less than 10 years after Sea Pines began. What we see around us today, here at The Shops at Sea Pines Center, is an incomparable array of choices for every level of golfer, and one that continues to attract the most interesting people all year, every year. Let's have a look at the Sea Pines golf resort – what we have now and where it all came from.
The Three Right Here
While it's true that 32 courses await visitors to America's favorite vacation island within easy reach of Sea Pines, you don't even need to leave the gate to find what many say are the top three. And although the growth of the Sea Pines golf resort began decades ago, it is not by any means an old story.
As recently as 2016-2017, Golf magazine named Sea Pines a Platinum resort, alongside Pebble Beach, Greenbrier, and Pinehurst. Possibly what reminded Golf that particular year was Atlantic Dunes, the transformation that was performed on the original Ocean Course of Sea Pines. Under the designing hand of Davis Love III, the Ocean Course was completely reconstructed to further the seaside ambiance and Lowcountry scenery, restoring dunes, spiced with sea grass coquina shells, and flanked by our ever-watchful native pines and oaks. The resulting Atlantic Dunes course has become the favorite of many.
Heron Point, designed by Pete Dye, was one of Golf Digest's 2015 Best Places to Play. It's been called a "cohabitation of beauty and beast," yet it offers at least seven ways to play it, ranging 7,035 from the back tees and considerably shorter from the several tee options at each hole. The way Heron Point is blended into the Lowcountry landscape, considerate of our remarkable sea birds, qualifies Heron Point as a Certified Audubon Cooperative Sanctuary.
Last, and yet first in many ways, the Sea Pines golf resort owes its original reputation to the legendary Harbour Town Golf Links, completed just in time for the first Heritage Classic Tournament, around Thanksgiving 1969.
Victory and Fame
Sometimes when we think of it, we're surprised that there's yet to be a movie made about the first Heritage Classic Tournament, the one that put the Sea Pines golf resort on the map. The story has everything. Heroes and miracles and reverses of fortune; vision and risk and venturing all-in on an idea. More than a happy ending, this is a story that brought victory and fame. No Hollywood screenwriter could have dreamed a better launch for the Sea Pines golf resort.
Arnold Palmer needed the win. Charles Fraser needed the publicity. Now that they're legends, we might forget the drama that was the first Heritage Classic. They say the hardest thing about history is realizing that the people doing it did not know how it was going to turn out. The Sea Pines golf resort didn't make Hilton Head "Golf Island" by happenstance.
For 14 months, Arnold Palmer was winless. He had averaged four victories a year for 13 years prior to the drought. This new tournament called the Heritage Classic might be his chance to turn that around. Palmer's golfing obituary was starting to appear in newspapers and magazines, and the first Heritage was where he planned to prove them premature.
Charles Fraser was redefining the idea of resorts. Making Sea Pines a haven set in nature was part vision – part necessity. More imagination, less capital was the approach Charles took at first, so it may be even harder to recall how uphill his job was in 1969 than to think of Arnold Palmer winless. Imagine a Heritage where the grounds pass was called "pricey" at $20. Where you could add the Clubhouse for ten bucks more. For the whole week.
As Bold as One of Palmer's Approach Shots
When the gallery gathered around 18 to see the Heritage trophy awarded that first time, it was sportier, less formal than today. Watching a rare home movie of those moments, we see a sense of wonder on the faces of Palmer, Fraser, and the early Sea Pines golf resort staff.
It was a beginning beyond their wildest dreams. Palmer won a tournament again the next week, and two weeks after the first Heritage the Associated Press named him "Athlete of the Decade." It was said that Fraser sold more property that week than in Sea Pines' first 12 years. And legendary Sports Illustrated writer Dan Jenkins predicted that Harbour Town would become "known as one of the 10 best courses, old or young, in the entire country."
So the rich results of our tradition at the Sea Pines golf resort cloak the incredible risks and rewards of its beginnings.
A Course to Match the Inspiration
When they completed Harbour Town Golf Links, just in time for the first Heritage, course architect Pete Dye and consultant Jack Nicklaus predicted that "only players of championship quality" would win at Harbour Town. Indeed, only four of 46 Heritage winners thus far got their first championship here. When Harbour Town Golf Links was completed – in just 18 months – for that first Heritage, Sports Illustrated called it "nothing short of a work of art."
Harbour Town Golf Links calls for skill with every club – and a bit of cunning they say. Designed like the links of Scotland, it can't be won with power alone, or even power primarily.
It's interesting that even when they reached into history for the design, Dye, Nicklaus, and Fraser were ahead of their time. The links design at Harbour Town anticipated by more than four decades the restoration of Pinehurst No. 2 to its original concept.
The Ultimate Happening Neighborhood
Our whole neighborhood here at The Shops at Sea Pines Center embodies this blend of the historic and the up-to-the-minute. The story of how the Sea Pines golf resort became world-renowned is not just history, it's our Heritage, and the stories continue every day.
Come join us among The Shops at Sea Pines Center and connect with what's going on. We've been right in the middle of it, all along.