They say the only folks who love Heritage week more than our Hilton Head Island visitors and guests are our residents and volunteers. And touring pros say they look forward to Heritage week all year. "Playing the Masters, and then going to Hilton Head with the family for the Heritage is like playing in the Super Bowl and then going to Disney world," one PGA veteran said.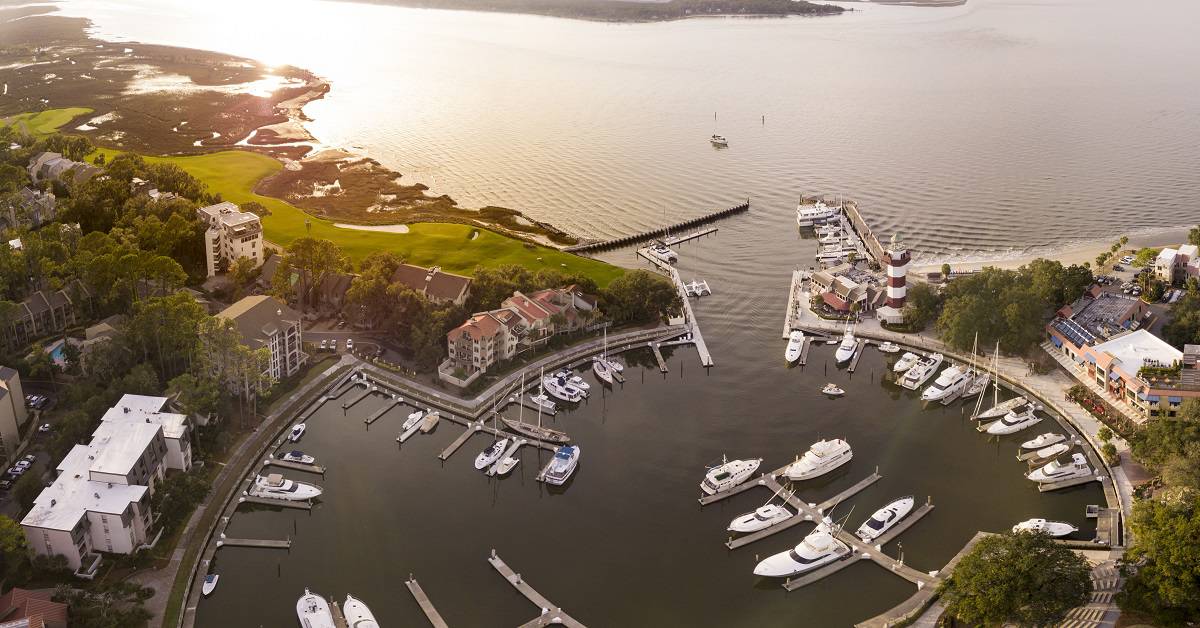 When Heritage week rolls around each year, Hilton Head Island celebrates with a spirit that is truly one of a kind. What passes for winter is firmly behind us, and the feeling that comes with the RBC Heritage Classic is a flourish of enjoyment and gratitude. Glad as can be to live here, or just to be able to visit. And thankful for the special mixture of joy, luxury, thrills, and satisfaction that this week confirms.
Adventures Await
The dance card is full this year, with things to do for everyone all through the week. It's a special reminder of an everyday fact that insiders have known for generations. The Shops at Sea Pines Center is a place where interesting things are always going on, where people go to see for themselves what's happening. Never has this inside knowledge paid off more generously than Heritage week this year.
Tuesday, from 10 a.m. to 2 p.m., a new lineup of growers and artisans offer the vibrant, multi-colored fruits of their work in the Farmers & Makers Market, displayed here in the sun-cradled plaza of The Shops at Sea Pines Center. From fresh seafood, to a kaleidoscope of fruits and vegetables, to charming and handy crafts, to art you can wear and use – the possibilities are almost endless.
And long-time fans of farmers markets here and everywhere know this for sure – a farmers market is not just about what you can find. It is majorly about what you can find OUT. As a clearing house for inside scoop, farmers markets are hard to beat. This time-tested role is more valuable and more appreciated than ever during Heritage week on Hilton Head Island.
WineFest and More at Hazel Dean's
Wednesday, April 14, The Shops at Sea Pines Center and Hazel Dean's host the First Annual WineFest at Hazel Dean's. Starting with a sparkling reception at 5:30 p.m., the WineFest at Hazel Dean's moves on to tasting the proud selections from five different, authoritative wine distributors. Tapas bites from Hazel Dean's gourmet grocery will include filet mignon, rib eye, smoked pork chop, Canadian lobster, and smoked salmon. The John Cranford band – a Lowcountry legend – will be playing for your enjoyment.
Tickets are worth every penny at $75, available on the Hazel Dean's website. WineFest proceeds are donated to Second Helpings, Hilton Head's home-grown charity for "rescuing food" and preventing waste to feed neighbors who need it. Second Helpings serves 19,000 people every week by supplying 55 non-profit food pantries, soup kitchens, agencies, and churches in Beaufort, Hampton, and Jasper counties. And speaking of charities, the Heritage Classic Foundation itself is one of our greatest, having distributed $45.8 million to charitable organizations, the arts, medical institutions, and college scholarships since 1987.
Hazel Dean's continues to play Heritage Hilton Head host then, leading right up through the Saturday rounds of the Heritage Classic. Hosts Mike and Debbie Kilgore invite you to, "Make Hazel Dean's your First Stop on the way to the RBC Heritage." Starting Thursday, April 15, from 8 a.m. to 6 p.m., they're serving coffee, breakfast biscuits, snacks, and more, followed by wine by the glass and beer. You can make Hazel Dean's your own VIP reception spot, Thursday, Friday, and Saturday, April 15, 16, and 17.
Art on the Patio
Debbie and Mike might have suggested making Hazel Dean's your last stop, too, as they're open until 6 p.m. and situated right near the trolley stop to Harbour Town and the 18th green!
The First Thursdays Artists who make our monthly celebration of local art such a smash will be staging a Heritage pop-up art market from 3 p.m. to 6 p.m. at Hazel Dean's on April 16, the Friday of these Heritage week festivities, adding to the fun a backdrop of art that you can take home if the spirit moves you. The art photography of Jeff Keefer's VIVID Gallery will be on display, a style that many choose for remembering their Hilton Head Island time or for joining Jeff in his adventures around the world.
Also participating in the Heritage pop-up art market on Friday, April 16, are Donna Barnako, an artist of acrylic collages; the woodwork of Jack Neades; acrylic painter Michael Neiderer; and Pam White, whose encaustic wax process gives her art unique dimension.
Whatever Taste Appeals to You
In fact, all through the plaza of The Shops at Sea Pines Center, you'll find a variety and quality of places to dine and refresh that is finer than any other spot on the tour. This panoply of food and drink – from fun to fine – is very much a part of what people remember when they think fondly of the RBC Heritage on Hilton Head Island.
Just steps from the trolley, C'est Bon serves authentic, colorful Italian gelatos and French pastries to tempt the palate of young and old, as well as gourmet coffees for that lift that extends your Hilton Head day, Heritage week, or anytime. Lowcountry Produce, across the way, offers authentic dishes made with the freshest of ingredients – plus shelf after shelf of delectables you can take home or send to friends who might not have made it to Heritage this year.
And right in the center of The Center is Truffles Café. A cherished restaurant, a sophisticated bar, a noted wine selection, Truffles is one of a rare, chic selection. Among all the 200-plus restaurants of our foodie island, Truffles Café is truly one that we wouldn't be Hilton Head without.
If young ones are in your Heritage week party – or if your inner kid is raising its hand – then you'll be glad to know that Giuseppi's is right here in the Shops at Sea Pines Center. Heritage week or any week, our own Giuseppi's is Hilton Head Island's original pizza – and a lot of us say still the best.
And last but not least, we remind you of Plantation Station. It's not just the fine wines. It's not just the best fried chicken in a region that takes pride in its friend chicken – it's the humor of the whole thing that seals the deal. Yes, some of our best food and our finest wines are right there in the gas station. Plantation Station lives up to expectations that only the insiders know. It stands as one of several reminders that the Sea Pines founders intended The Shops at Sea Pines Center to be a part of everyday life – the post office is still here, too, but the bank vault in now Hazel Dean's wine cellar.
We Get Around
Our trolley stop is just one of the solutions to getting around during Heritage week on Hilton Head Island. No road closures between the Sea Pines gates and The Shops at Sea Pines Center show up on the official security map.
Parking will be open for our Farmers & Makers Market on Tuesday. All through Heritage week, our parking lot is open to Sea Pines Center patrons, so just let security know where you're going and come on down for breakfast, lunch, dinner, or shopping.
Authentic Enjoyment
Our founders dedicated this week to the history and heritage of golf – that's how the name was chosen. With the Heritage Classic Foundation headquartered right here in The Shops at Sea Pines Center, we can say with conviction that we're part of it all, and that we've been that way from our very beginnings. We invite you to join us here and make The Shops at Sea Pines Center your Heritage headquarters, too, just as the Foundation did about 30 years ago.