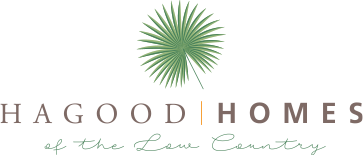 Hagood Homes of the Low Country is a premier boutique home builder based on Hilton Head Island, South Carolina. Preserving the elegant yet cozy character of traditional Southern homes, Hagood Homes' in-house crafted designs highlight the natural beauty of their settings without sacrificing modern comfort or style. Each home is built to be a lasting investment, with top-tier energy efficient design and construction. Embrace better living today with a custom Hagood Home.
Experience Hagood Homes of the Low Country
The husband-and-wife team of Jim and Troy Kenny has been building custom homes in the coastal Carolinas for more than 25 years. Their family's roots run deep in South Carolina, as Johnson Hagood built his first home in Barnwell, South Carolina, under the moss-covered oaks and towering pines of the Lowcountry. Jim carries on the family tradition of building homes meant to last for generations, with unparalleled excellence in workmanship, artistry, and craftsmanship. Troy brings her discerning eye and talent for design to each space, creating inviting open living spaces that inspire and delight. The result of their collaboration is enhanced living, inside and outside the nest.
Over the years, the name Hagood Homes became synonymous with not only beauty and style, but also modern amenities and value. Each of their dedicated employees shares their passion for professionalism, integrity and quality.
Subscribe to Our Mailing List
And receive information on specials and upcoming events.
We will never sell or share your email address.