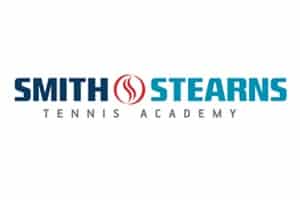 The Smith Stearns Tennis Academy was founded in 2002 by Stan Smith and Billy Sterns. Smith achieved a No. 1 world ranking during his professional career and is a former USTA Director of Coaching, while Stearns is one of the world's top coaches. The Academy is uniquely designed for junior player development.
Experience Smith Stearns Tennis Academy
Train with the Best
Smith Stearns prides itself on its world-class coaching staff, family style atmosphere and tailoring programs to our student's individual needs.
Improve Your Skills, Prepare for Tournaments, and Get Into College
The Smith Stearns approach speaks for itself as we have developed numerous state, sectional, national, and international champions over the years, as well as having one of the strongest college placement programs in the country.
Programs to Fit Students' Ranks and Needs
Smith Stearns offers some of the world's most acclaimed tennis programs, especially designed to help young people develop athletically while supporting their academic, social and emotional growth during the important development years.
We provide a high-performance level of instruction in an elite setting — emphasizing individual instruction in low ratio camps or one-on-one settings to ensure quality interaction between junior players and world-class coaches.
We are able to address a student's "entire game" with a combination of drilling, strategy, mental preparedness, patterns of play, point set up, and match play. To ensure a high level of technical development, we utilize both soft and hard court training to promote good footwork, sound tactics, and a disciplined approach to playing extended points. In addition to good court performance, we also encourage students to develop good character, sportsmanship, and overall integrity.
By limiting enrollment, we are able to ensure a more personal atmosphere and provide more one-on-one time to each player enrolled at the academy. It's our way of affording each student the individual time necessary for his or her ultimate success.
Smith Stearns offers year-round, Monday-through-Saturday training for players of all levels — unranked, or state, sectionally, nationally, and world-ranked players. Full-Time, weekly, holiday, and summer programs are available for students of all ages.
Full-time students can opt to stay with house parents and attend local schools. This residence program ensures that students are well-supervised and well-supported.
Subscribe to Our Mailing List
And receive information on specials and upcoming events.
We will never sell or share your email address.