The Shops at Sea Pines Center were inspired by the plaza of a Spanish city, the carré of a French village, the bazaar of a hamlet in the Holy Land, the British village green, or a New England town's common. The vision might particularly have begun with the mercato of Portofino on the Italian Riviera, where Sea Pines founder Charles Fraser is said to have discovered the design inspiration for nearby Harbour Town.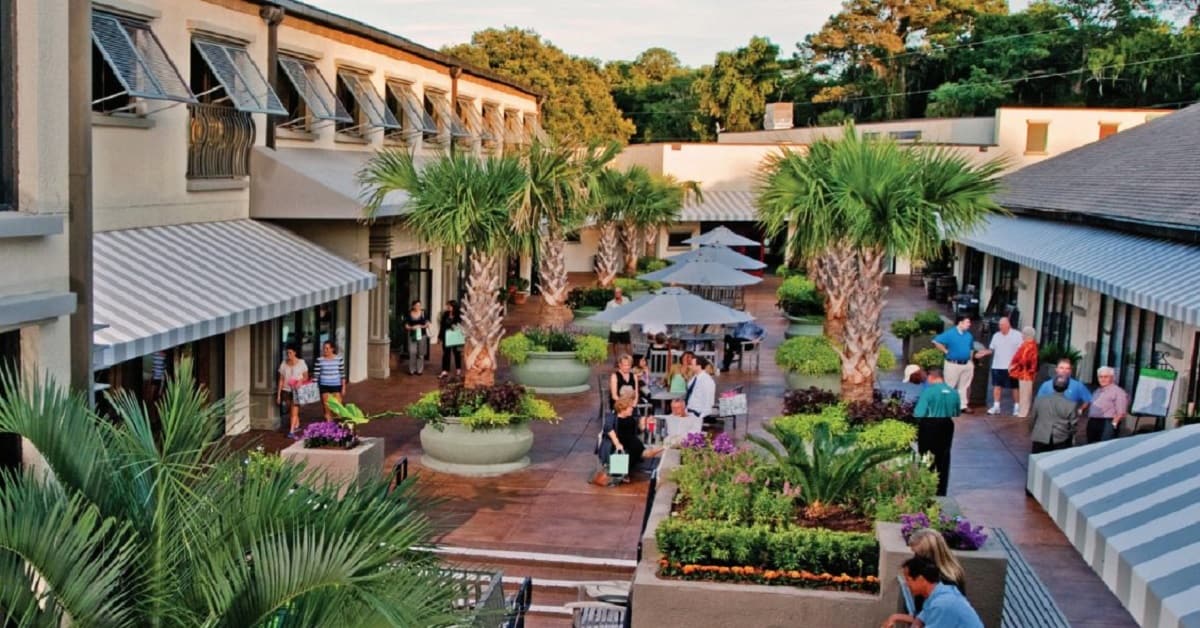 Why does an attractive – even magnetic – gathering place such as The Shops at Sea Pines Center appear in so many cultures and all through the history of civilization? It seems to bring deep satisfaction when people have a place to go that is both public and personal, secure and yet surprising. These spots became special. Their power of attraction probably originated from the agreeable experiences people encountered there.
Where Ideas, Neighbors, and Merchandise Meet
We've enjoyed the results of civilization for so many generations that it's hard to repaint the picture of what a gathering place meant, back when our attraction to them began. It's been easy to locate most of the things we need for day-to-day life for so long that we forget what an achievement it was, when food and clothing began to come without risk or adventure. When spices and silk first made their way to Europe, that was the culmination of a months-long caravan, a journey whose hazards and hardships were worthy of a chronicle every time.
The end points of those caravans were places of celebration. It wasn't only the merchandise, but the experience of encountering it, and of sharing news and ideas with the others who gathered there, that made these markets into parks, into forums for the familiar and exhibits of the extraordinary.
A clear example on a smaller scale, and more recently, the plaza at Santa Fe still bears the traces of the Santa Fe Trail that led to and from it. Imagine the joy of being finished with that arduous trip, or of strolling down to that square to see what the intrepid travelers had brought with them this time.
The Legacy of Delight
Cheer and comfort, amusement and elation came to be connected to places such as these. People took steps to make them even more pleasant and attractive. Fountains and flowers, art and amusements, directions and diversions were added. And so, the magnetism of the marketplace grew from the practical to the emotional.
Here, in The Shops at Sea Pines Center, we don't think that hard about what we inherited this way. Joy has been a way of life in Sea Pines Plantation for more than a half-century. The ways that are required to keep it that way are simply local customs here. Yes, it takes work and cooperation, insight and empathy, but we've been at it as long as we can recall. So, to a certain extent, it comes naturally to The Shops at Sea Pines Center; it's what we do.
Please join us. It's our mission to make you feel glad you did.