Even as we see Halloween at the distance of a week or two, we also see preparations all around. On our exercise walk along the shore, we have already for days been confronted by a gigantic skeleton, reaching out to the walking path from a neighbor's back yard.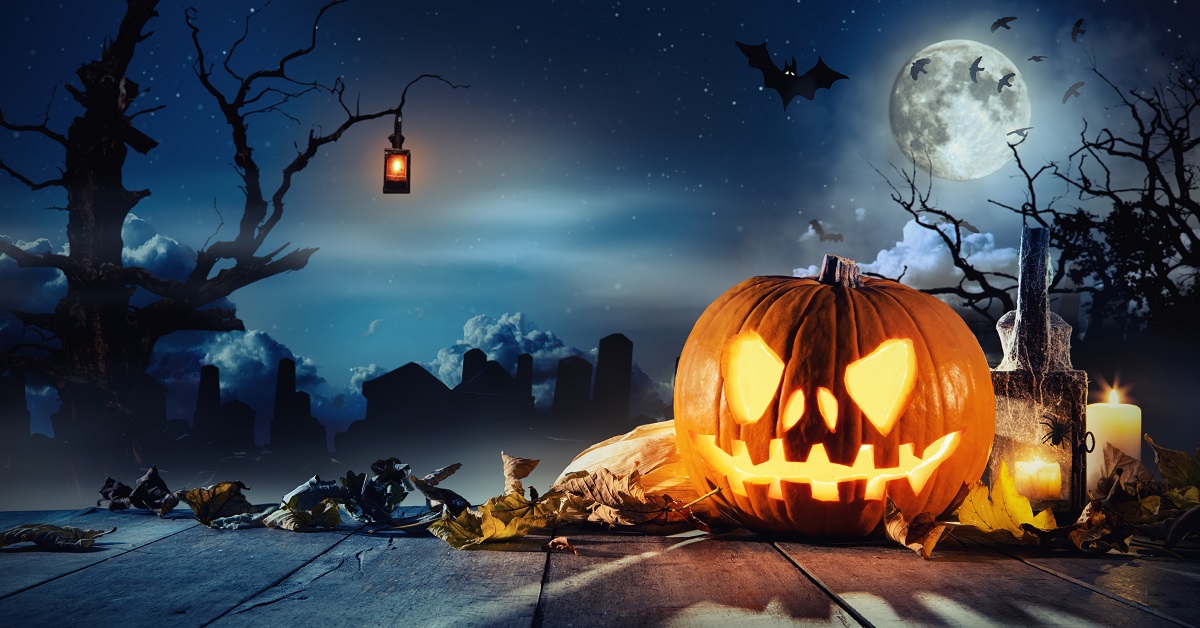 Groceries and chain drugstores already festoon their shelves with bags of Halloween candy, and there are those who shop for it weeks in advance – both to avoid the rush and the shortage that comes with it, and to spread the considerable expenditure over more than one payday.
Certain neighborhoods count themselves fortunate to be the go-to destination for trick-or-treaters. And it is widely accepted to commute to those neighborhoods, as well as to include suspiciously tall trick-or-treaters in the Halloween harvest of goodies.
Bigger and Broader
The celebration of Halloween has not only become bigger in recent years, but also broader. Teens are not the only ones edging themselves into the festivities. Yes, Halloween became a holiday for grownups, too, and the phenomenon is not all that recent. Before we take for granted our chance to join in, let's have a look back at how this happened and why.
You see, it is within living memory that Halloween was first and foremost a holiday for children. Parents and elders got involved, certainly, and yet their role was mainly to prepare the kids with costumes, to lay in a supply of treats, and to greet the trick-or-treaters when they arrived.
A friend who worked on the big beer advertising campaigns of the time says that they could see it in the sales curve. Around 1980, bars and restaurants began to respond to the desires of grownups to have their own fun at Halloween, too. And the curve was steep. With a little thought, it becomes easy to see why.
Thankful Gathering
The harvest season is sacred in cultures that depend on the earth for their livelihoods. Farm families know the rhythms of the year in a different and deeper way. Blessing the abundance of the harvest, even as they busy themselves canning and preserving vegetables, smoking meats, and laying away the stores that will sustain them through winter – this was a way of life for millennia.
It is a legacy of this rhythm that there was pent-up demand for a party, back in the early 1980's, when grownups burst into Halloween with their own interpretations.
For a Different Point of View
And this is not just any party. The chance to don a costume is a way of changing your point of view that is as ancient as the harvest itself. Theatre people know how helpful a costume can be in discovering the keys to a character. Putting it on frees you, in a way, from staying stuck in the everyday notions of how to do things.
A touching and poetic example comes from a dear friend whose day job is that of a prosecutor in juvenile court. Although her compassion is true and her opening words on every court day are, "Your honor, we are here for the benefit of (the name of the child who is charged)," Halloween is this prosecutor's chance to don a peaked black hat, broad-striped stockings, and to pose as a witch as she hands out candy from her doorstep, to hundreds of the children she works so hard to serve – and to save – as a state's attorney.
It is refreshing to change your point of view. A holiday that brings permission to do that in costume is welcome indeed.
No Reason to Wait
On a subtler scale, this is what we are doing when we shop, and so we see people add some of this freedom every day, here among The Shops at Sea Pines Center.
Whether it is clothing, jewelry, or a gift, the act of considering something to wear, or to give, is a step outside what we already have, what we already know, outside the world as it has become familiar. The choices we make when shopping are usually much closer to the ideas we are already accustomed to knowing. They might be seen as little steps outside the envelope. We take them to expand the world we know, in gentle, measured ways.
Now, in the approach to Halloween or anytime, it is a privilege to offer you the extraordinary. That has been our mission at The Shops at Sea Pines Center from the very first. This season gives us all a vivid reminder of the freedom that the experience of shopping here can bring.