If your family was ever in retail, then you know about seasonal decorations. A friend just parted with a cardboard couple of Pilgrims – husband and wife – that had first graced the display case of the family store at Thanksgiving. The Pilgrims hadn't been up from the basement of the family home in years, and yet it is hard to toss out certain symbols.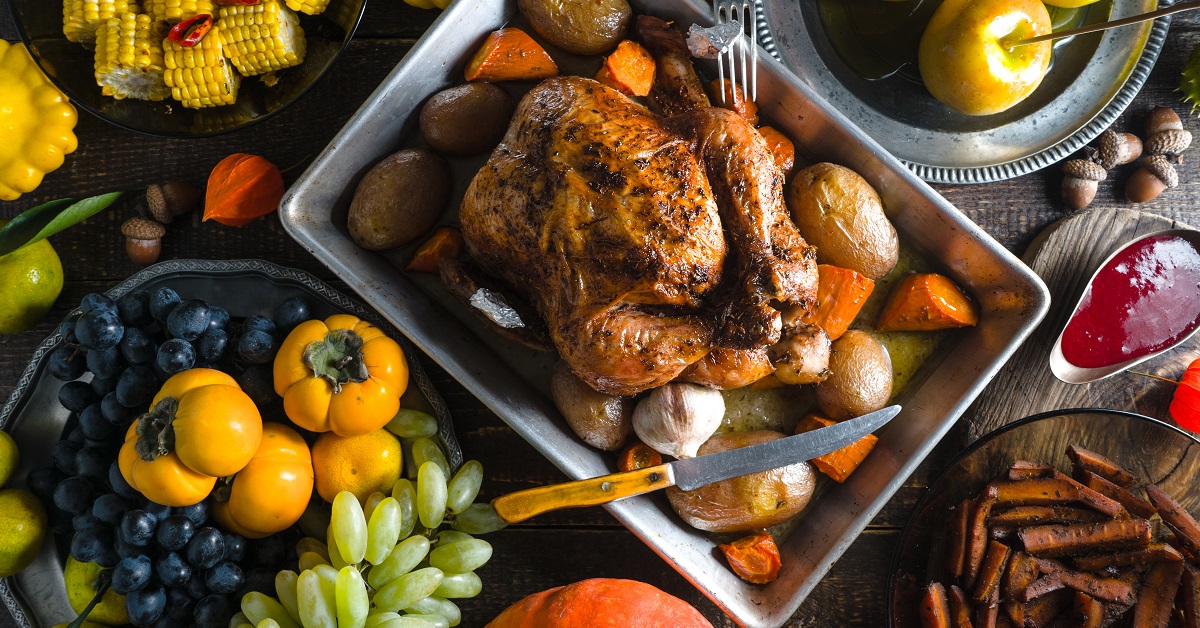 Another perennial Thanksgiving symbol is the cornucopia, the horn-shaped basket spilling forth with seasonal vegetables. It is safe to say that few of us if any has ever seen a real, live cornucopia – the basket alone would make it a rarity – and yet it still appears here and there every November, as purely symbolic as any image of the season. But a symbol of what?
That overflowing basket was clearly intended to symbolize abundance, a property most of us have been fortunate to take for granted. This alone makes a good reason to revisit it.
Variety and Ease
There are more than 250 restaurants on Hilton Head Island. Do people here love to dine out because there are so many to choose from? Or do Hilton Head Islanders just consider dining out to be one of the local sports, the way our British cousins in Bermuda do? Is that why it took so many restaurants to satisfy such a widespread desire? Whichever came first, it's great to have so many restaurants to choose from and to connect with them so easily.
Over the past few years, the restaurants and cafés of The Shops at Sea Pines Center were among the leaders of Hilton Head restaurants in offering takeout meals, curbside pickup, and in some cases delivery, too. Now that we're dining in again, the connections we made are here to stay.
Giuseppis's pizza, not surprisingly, had delivery already tuned up. Lowcountry Produce engaged a new system for online ordering and delivery that guests are enjoying long after precautions are behind most of us. Truffles Café saw the opportunity to add even more casual menu items to its offerings, in view of takeout ordering.
Our favorite café, C'est Bon, is not such a secret joy anymore, as hundreds of fresh faces found their pastries, gelatos, and sandwiches the perfect accompaniment for a European approach to coffees, giving the whole family something to be happy about. And where but in The Shops at Sea Pines Center would you find a place like Plantation Station, reputed to offer some of the best fried chicken around, and where you can fill up the gas tank and select a very presentable wine while you're doing it?
Reassuring Abundance
On overseas business trips a few years ago, we noticed that our business friends seemed especially eager to take us to a churrascaria, a Brazilian kind of barbecue restaurant where giant cuts of meat are carved right at your table, and side dishes are displayed in a massive buffet. It doesn't take too many visits to get the idea that the display of food is a big part of the style.
Later you realize that the display was a purposeful image of sheer abundance that these folks had known times when such abundance was only a distant dream. In this light, our friends' attraction to the churrascaria had something to do with reassurance. To us it became a reminder of gratitude.
The Way We Feel When We Go
Part of the pleasure of patronizing the restaurants of Hilton Head Island is the feeling that you had your own choice from a fine array. It's not just the one you chose. It's the feeling that you could have picked a great many others and never made a mistake. There's a synergy in our selection, especially here in The Shops at Sea Pines Center. For any occasion, for any guest list, you can't go wrong. From turkey to tilapia, from pizza to French pastry, from Caesar salad to shrimp and grits, it's a fine thing and a fun thing to dine here.
It is one of the things for which we give thanks here on America's favorite island, all the time, yet especially at Thanksgiving. Have a happy Thanksgiving, from all of us in The Shops at Sea Pines Center. See you soon.