Everybody knows The Shops at Sea Pines Center is on a straightaway. In fact, It's halfway between Harbour Town Lighthouse and South Beach. Sea Pines founder Charles Fraser put it there, in the middle of the Miracle Mile, because The Shops at Sea Pines Center were intended to serve as a kind of corner store – Sea Pines style.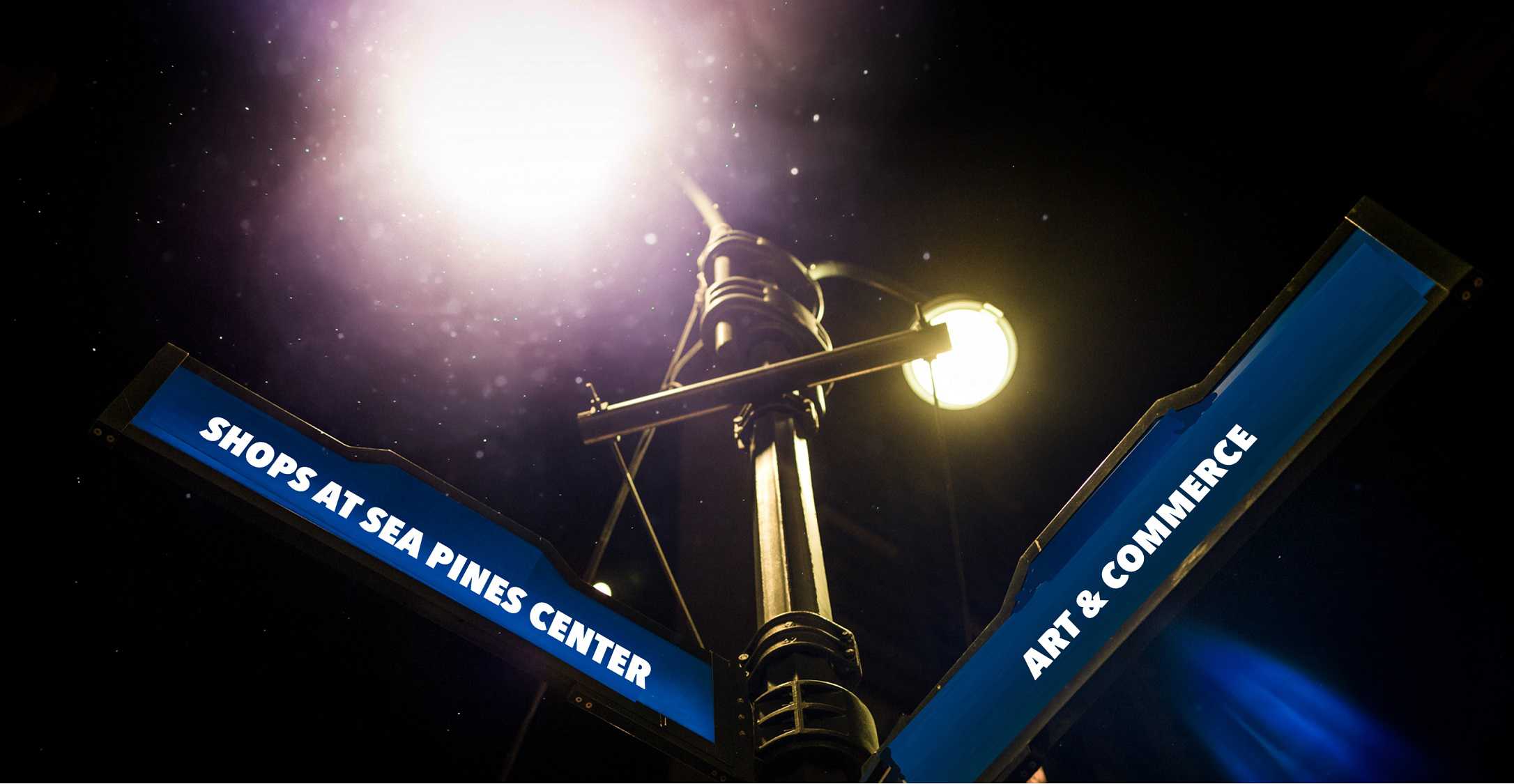 The Shops are so special now that it might be hard to think of them as a convenience. But look closer. They put a Post Office branch here, and a bank, and a gas station. There's a community center for meetings and assemblies. The original design of Sea Pines, where the dream of Hilton Head Island as a world-class resort first took shape, offered The Center as a part of everyday life.
But yes, this is certainly no corner store. Or if it is, then it's at the corner of Art & Commerce, where dreams get practical.
A Firm Foundation
The present-day of Sea Pines is so pleasant that there's never a temptation to live in the past. Even the pleasant whiff of nostalgia has less meaning here, where today is the best blend of hometown and resort island that anyone's ever seen. Yet still, it's part of that pleasure to recall occasionally how things got to be this good.
Sea Pines founder Charles Fraser was the talk of the town. Not this town; rather New York City. While Charles was still doing business from ad hoc offices near today's Sea Pines circle, the business world was already buzzing with word of a young entrepreneur who was taking a different approach to resort development.
His law degree helped, no doubt, in drafting the agreements that protected natural beauty here, even as his plans made paradise reachable for many more people than might have reached this island before then. But it was the artist in his heart that made Charles unique among developers. The passion he maintained all his life for finding ways to wrap human lives in natural beauty set him apart. The effects of that unique blend are all around us here in Sea Pines today.
Part of that original plan was to set a subtropical plaza for merchants and businesses right here, where people could work and shop without leaving behind the beauty they came here to enjoy.
A Visionary Design
The idea of a forum, a gathering place, was ancient. Architects point to the first example 8,000 years ago. Yet, in the hands of the Sea Pines founder, and under the mid-century modern influence of young architects on the rise, The Shops at Sea Pines Center were born with the benefit of "right time, right place."
Arranged around a courtyard or plaza, in the shade of palmetto trees, The Shops at Sea Pines Center make it possible for Sea Pines residents and guests to get what they need, enjoy what they wish, and discover what they want – all without departing from the dream designed so carefully in Sea Pines Plantation, the original, groundbreaking plan of a community for living graciously.
The course of the island sun paints a different picture every hour of the day within the plaza, and the sound of a waterfall calms the very air. Perhaps that explains, in part, why The Shops at Sea Pines Center have become a gathering place – for shopping, yes, and also for rendezvous, refreshment, or repose – in the heart of Sea Pines Plantation.
Curated Carefully
The collection of shops here is a vital – living, breathing – part of the chemistry that brings the Center to life. At least as much as the brilliant, human design, the shops themselves make the dream a reality. From ice cream to moonshine, from spa treatments to fine dining, from fashions to furnishings, from pizza to diamond necklaces, the Shops at Sea Pines Center are an accurate reflection of the life that Sea Pines residents and guests enjoy.
Each day at The Shops at Sea Pines Center, people purchase everyday things they need or enjoy, as well as keepsakes, jewelry, art, or collectables they intend to pass down as part of their legacy.
Some shops have themselves been here for generations. Others are the result of the Center's talent for continually bringing together things and experiences that reflect the life of Sea Pines, home to some of the world's most experienced world travelers and accomplished homeowners. Satisfying them has bred a culture of world-class consideration and courtesy, as well as the possessions, effects, and provender their busy lives require.
Tastes change: standards rise. Enhancing the Shops at Sea Pines Center is a continual endeavor. Taking its place alongside the high-profile updates in resort accommodations, golf, and beach facilities throughout Sea Pines Plantation, the Shops at Sea Pines Center has invested well in a new main entrance, new landscaping, and architectural appointments. And the process is as continual as the enjoyment, here among The Shops at Sea Pines Center.
With the Pleasure of Paradise
A sense of community – if, when, and where you desire it – is one of the pleasures of paradise. Toward that end, the plaza at the Center plays host to a seasonal farmers' market on Tuesdays. If you're a fan of the genre, you know that the local farmers' market is where sophisticated travelers go to get a sense of their surroundings, because a farmers' market is only partly about produce.
The main event, for many, is really the gathering. It's an easy, pleasant place to peruse art, produce, and handmade keepsakes, surely. Yet, it's also where residents and guests alike rub elbows, if they so choose, and share the inside information that makes a resort a real community.
Why Here?
The desire for a place like this seems to be deep within us as human beings: Light, air, privacy, security, and tranquility are just a few of the reasons people have been gathering in places like The Shops at Sea Pines Center from the beginnings of civilization.
The refinement of this principle that we enjoy here is second to none. The Center was inspired by a genius, distilled through experience, and brought to life every day by people who are dedicated to making dreams become real. You're always welcome here, at the corner of Art & Commerce.